OGSOSA 65/69 MINNA REUNION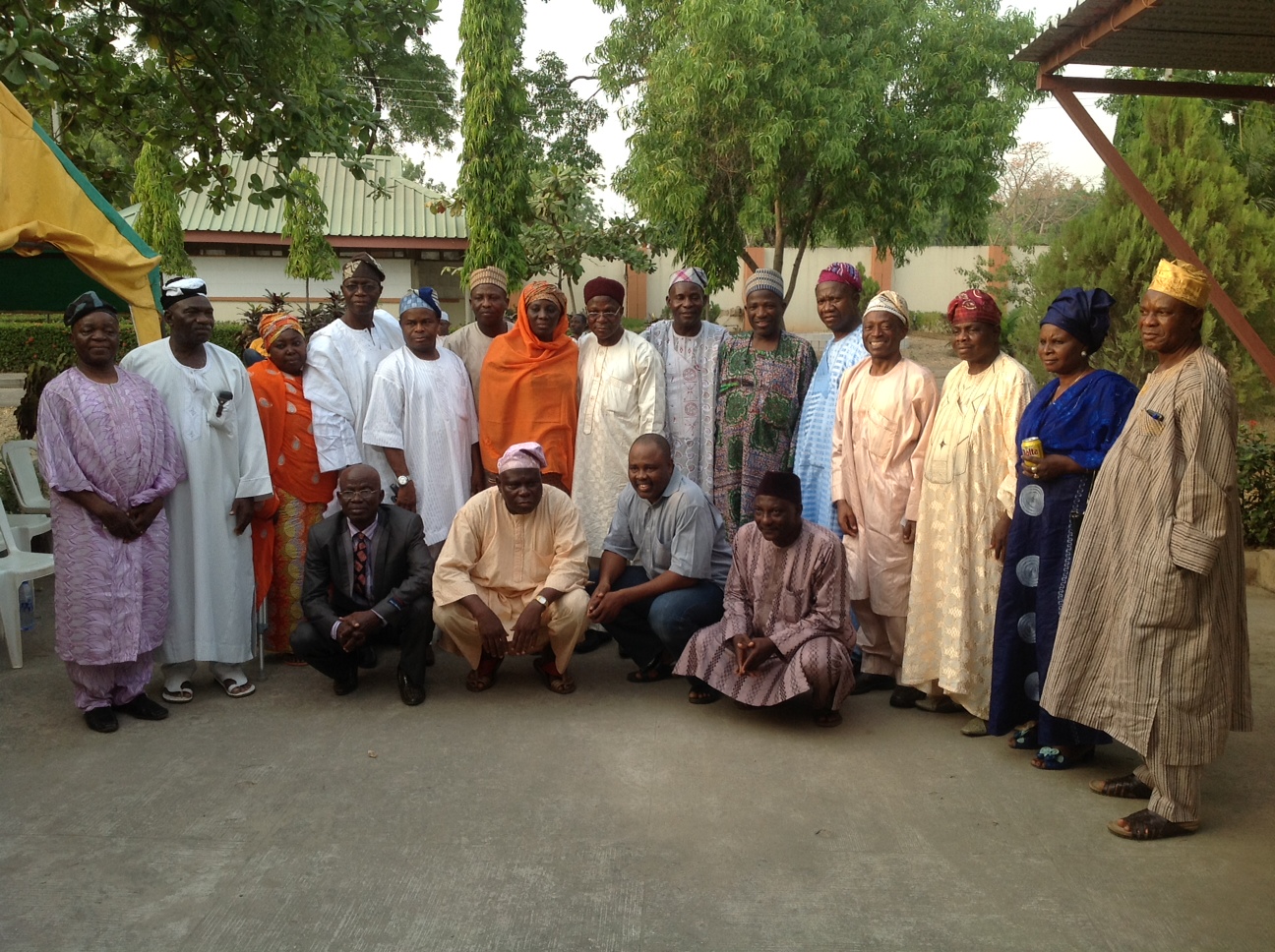 Friday December 19 through Sunday December 21, 2014 OGSOSA 1969 Set met to Commemorate 45 Years of Leaving School
The Hosting Group (LOC) comprised Alh Sikiru Oyewo, the LOC Chairman with Professor MA Akanji (VC FUT Minna) and Dr Peter Omozokpia (FUT Minna) and the spouses as members.
EXECUTIVE SUMMARY OF EVENTS
Everything that has a beginning must have an end.
The much talked- about Decade 4.5 of OGSOSA Club 659 Reunion tagged Minna- 2014 has come and gone.
Delegates came from Abuja; Ibadan; Ifo; Ile- Ife; Ilorin; Kaduna and Offa.
A total of 12 of us attended the Reunion and it was excitements galore all the way throughout.
Day 1 - Arrival
The First group to arrive was made up of Baale-elect Jimoh Kunle Yusuf (aka Aku), Lanre Ogunwole (aka Presiii), Alh Tosho Alabi (aka Apollo), Prince Saka Keji, Dr Magnus Thomas, Hajj Gani Ayinla who drove in from Ilorin and arrived by 3.30pm. They were received at the Hotel de Peacock by the Chairman of LOC, Sikiru Oyewo assisted by Peter Omozokpia. The welcoming ceremony included identification test which Peter failed woefully (He did not recognize anybody. He was meeting them for the first time in 45yrs ie since leaving OGS!
While this group went for lunch at the designated place (pounded yam with 'egusi' and ram meat with dried fish), Alh Chief Rasheed Adepoju (aka Lawanza) arrived the hotel from Kaduna at about 5pm. We met him at about 6pm. Lo and behold, he could only recognize Apollo with the latter's voice. He could not recognize any other person including Musbau who talks with him on phone virtually on daily basis. Banters continued until Kola Jimoh, Dejo Lawal and spouse came in from Abuja at about 7.45pm.
All of us returned for dinner at the designated place at about 8pm (Moin Moin with Fresh fish and little rice for those who came after lunch).
We returned to hotel at about 10pm and played and gisted till nature took over and delegates started falling asleep one after the other, and retired to their rooms.
Day 2 - Reunion Day
Very eventful and difficult to recap!
Delegates refused the scheduled early morning gymnastics and aerobics pleading old age! They however did not refuse breakfast at 8am (bread, palp, Moin Moin, corn flakes, fried eggs, tea/coffee)!
Formal Meeting started after breakfast and was flagged off by prayers followed by lectures one after the other by Magnus on Managing Old age; Ayinla talked on Running business after retirement and Yusuf Aku on Will and Inheritance. The 3 lectures were exciting, educative and rewarding. Four spouses participated in the lectures and all of the day's events.
Received goodwill messages from members from far and near
Sola Harris talked with all of us via Skype from USA
David Abogunrin talked with all of us via Cell phone also from USA
Professor Sidiqat Yetunde Nike Ijaiya (nee Bakare), DVC (Academic) Unilorin sent email and called
Hassan Bolarin, Leke Oladipo and Raliat Akinbobola (nee Salawu) talked with us via Cell phone from Offa, Lagos and Abuja respectively.
Esther Adekeye (nee Kazum) called on phone
Ebun Adebayo (nee Adedoyin) and Funmilayo (nee Idowu) respectively sent text msgs
Break
Interrupted the meeting for lunch around 2.30pm (Tuwo shinkafa with gbegiri, Amala with ewedu, chicken, fish, ram meat. Many boy voted for abula).
After lunch, we joined invited guests for some entertaining performances. This aspect was truly exciting! There were the Gwape International dancers and Choreographers who took turn to entertain us for whole of 2hrs.
It was better seen than described. Our wives used the opportunity to join the dances (especially the music supplied by DJ).
Food (in varieties) and drinks (soft drinks and table water) were served to the invited guests (about 60) who included, Principal Officers of the Federal University of Technology, Minna, Retired Military Officers, OGSOSA Minna Branch and other friends and well-wishers.
We then retired to continue our meeting till about 9pm. Afterwards had late dinner of porridge, beans, fish.
Thereafter went back to the hotel where interactions continued till very very very late hours.
Day 3 -Departure
Peter left first at 6.40am for Bida.
who left by 9am while Abuja/Ife left at about 10.30am for for Abuja.
Last Line
As at 9.00pm of Day 3, the reports that reached the LOC were that all the delegates had arrived various destinations safely.
The 42 hrs spent together were like 42 minutes. It was great, hilarious and it was a cherished memorable swell time!
All Praises are due Only to God, the Almighty! May God keep us for many more years in good health to be useful to each other and our beloved OGS.
Professor Musbau Adewumi Akanji
---
Photospeak