Address of Chairman of 70th
FOUNDER DAY COMMITTEE
Gregory O. Adeyemi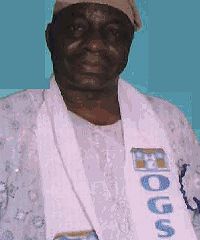 To God be the glory for sparing my life to serve as the Chairman of the 70' Founders Day celebrations committee of my alma mater. It is about 50 years ago, when I made my first contact with Offa Grammar School. I came down to Offa on a train journey from Lagos with other hundreds of young boys who were resident in Lagos but of Northern region origin to take common entrance to the school. It was a big fun to have a 9-hour train journey from Lagos.
On the day of the common entrance examination Offa town was jammed packed with students aspiring to be students of the first community Grammar School in Northern Nigeria, which has already had a good reputation of academic excellence. I was called for an interview few weeks after, but my journey to Off at this time was lonely because I was the only student from Lagos. Fortunately, those students from other places with whom I did interview became my friends and classmates in Form IA in January 1964.
Gaining admission to Offa Grammar School was not easy, but decision to attend the school was on strong advice of a close family friend, who was once an old student. I jettisoned a popular Catholic College in Lagos to attend the school; the same story is true of some of my classmates who jettisoned Barewa College, Zaria and Government College, Keffi, in the North. I gave my personal experience on admission to the School to illustrate the "strict merit admission" policy of the school. It is the "strict merit admission" that gave birth to vibrant Offa Grammar School Old Student Association (OGSOSA) which is celebrating the current Founders Day.
No doubt Off a Grammar School has tremendous impact on my life. The same is true of thousands of old students that passed through her portal walls. She has produced eminent Nigerians in all aspects of human endeavors. To her, I say Happy 70th Founder Day celebrations.
The owner of the school, Offa Descendant Union (ODU) has a duty to revert back to old policy. Offa Grammar school population in my days at school is National in outlook covering 3 regions of Nigeria.
Finally, on behalf of my committee, I thank most sincerely the executive committee of OGSOSA for thinking us fit to do this wonderful job, and for constantly lending a helping hand when needed. The President, Chief Jide Falokun and his "1958 set caucus" of Gen Akinrinade, Alhaji Olagunju, Pastor Kunlipe, and Chief Odeniyi etc. must be appreciated.
Within a short spell of time, we worked hard to get the best for this celebration; we sincerely hope our best will be good enough for you. Please accept our apologies for our shortcomings. We wish OGSOSA a wonderful celebration; devoid of bitterness and rancor but happiness and gratitude of re-union and re-dedication to make our great school greater.

Alhaji Wasiu Odewale Secretary
Chief Yemi Olagunju
Aihaji Lanre Shoyemi
Alhaji J. A. Salako
Chairman Offa Branch, Mr. Bisi Satau
Member
Engr. Kunle Samo
Hajjia Jibike Alabi
Mr. C. D. Oyebanii
Mr. Akin Jegede
Mr. T. N. Durojaiye
Mrs. Remi Akinola
Mrs. Oladigbolu (Vice Principal OGS)
Mr, Ganiu Sanni, Chairman lbadan Branch
Mrs. Jumoke Rahidat Ajetunmobi
Mr. Toyin Yahaya
Mr. Salami Maruff Kola
Mrs. Ronke Aroyehun
Dr. Lateef Fatai
Alh. Yahaya Ahmed (Oka-Nara) Ilorin
Alh, W. A. Alayande - Abuja Branch
Arc S. M. Omitayo - Minna Branch
Mr. Bashiru Atoyebi
Mr. Sharafa Tiamiyu and
Prince Tayo Popoola.

And of course the editor of Magazine, Mr Oloruntobi Isaac Austin.

Gregory O. Adeyemi (MFR, FP514, RBA) OGS
1964/68/70 SET.