MR ADELOWO'S TENURE AS PRINCIPAL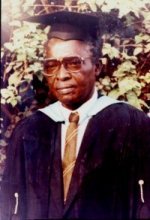 Having inherited a school with a strong foundation in all spheres of academic, sporting, moral and discipline, the major task of Mr. Adelowo when he took over was to consolidate the gains. The physical facilities were fairly adequate, the curriculum was well developed and the students were disciplined. He embarked on a rapid expansion in students enrollment. For example, as against the double stream per class that he met the school classes were increased initially to three streams and then later to four. This allowed for greater admission opportunity for those seeking admission into the school.
Of significant importance was the year 1968, the year of the Silver Jubilee of the school, when the school was approved not only to run the Higher School Certificate Course (HSC) in both Arts and Science subjects, but also to be an examination centre for the course. He engaged more teachers to enable effective teaching of both the lower and the higher school students.
STUDENT ENROLMENT AND STAFF STRENGTH
Mr Adelowo broadened the admission policy of the school and by 1976 the students population had been trebled to approximately a thousand students from 350 in l966 in Mr Osanyin's time. Although increased, the staff strength was however not commensurate with the students enrollment.